With social distancing protocol in full effect, organizations are forced to rethink their in-person events. This can be heartbreaking, especially when so much time and planning has been put forth to create a great experience for your audience. Additionally, so many non-profits and businesses rely on one big annual event to educate, celebrate, and in many cases, fundraise. This loss could seem like a big setback for an organization.
At Spotted Yeti, we understand the value of in-person relationships and interactions. We attend many events throughout the year, from smaller networking socials to award galas to annual fundraisers. As storytellers and video content creators, we also work in the event industry, too, frequently producing content for show programs or event promotions.
We are right there with you, feeling the effects that COVID-19 has had on our community. However, no matter the event venue or the theme, your organization's story is still what moves your audience to move, think, and act. Content is still king and emotion generates engagement. Here are some ideas on how pivoting to a virtual event can still help your organization reach its goals.
Rehearsal for Fifth Thirds' Annual Summit Awards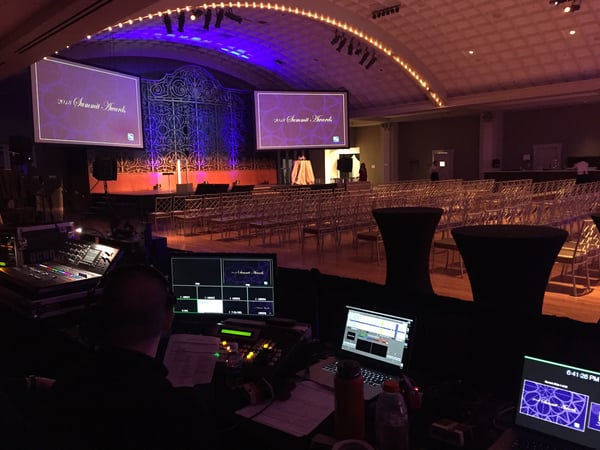 Benefits to a Virtual Event:
You Can Increase Your Audience - A live event is limited to those who are available at a specific date and time. It can also be limited by venue capacity or ticket cost. Going virtual can expand your audience to those who otherwise couldn't attend. Consider refocusing your event strategy on digital marketing efforts to expand your audience and design a virtual event convenient to them.


You Can Decrease Your Budget - Without catering, venue, and entertainment costs, your event budget can be allocated elsewhere. Reducing your output can also help your bottom line as we all are finding ways to cut costs. (Disclaimer - We list this benefit with some hesitation as we also know local event vendors are suffering as well. Please consider rebooking with them in the future, not asking for full refunds if you can afford it, and supporting them in other ways such as online reviews or social posts.)


You Can Expand the Event Timeline

- Why be limited to the several hour window of a venue booking? Turn your event into a day-long or even week-long engagement opportunity with multiple touch points for your audience. Here's

an example of how

Learning Grove

pivoted to a virtual weeklong gala and we were able to quickly edit user-provided videos so that they could share regular content.




You Can Gather More Data - At events, sponsors buy tables and individuals invite guests. The event sign-up doesn't necessarily gather all of the attendees' information. Depending on your delivery platform, you can find out which individuals are watching and engaging. Additionally, you can take this opportunity to ask more questions and get a larger response rate.
Ways to Create a Virtual Experience with Video
A successful virtual event includes staying true to your brand and keeping your audience regularly informed. We also suggest promoting (or launching) your event with an upfront guide on what to expect. Users need to know if they need to tune in at specific times, where they can find content they missed, and what actions they should be taking to support the organization. Here are some ways to engage with video:
Pre-Record Key Content - Did you have a keynote speaker booked? An emcee? Was the Executive Director planning to give an introduction? If so, ask them to pre-record a message or their speech for your audience. Release the content throughout the week and always end the content with the same call-to-action (ex. "Check out our live auction which is is open until XXXX" or "Visit our event website for more info.")


Go Live - A live segment is likely the closest you'll get to that in-person event-feel. Create some buzz by promoting the segment and allow for user interaction and questions. If you are going live publicly (such as on Facebook or Instagram) you will also increase your organic reach because users will be notified when you are live.


Edit Together User-Submitted Content - Your fans are your biggest advocates and can provide great testimonials for your cause. Prior to the event, reach out to key influencers or board members to answer a few questions such as "Why do you give back/are involved with this organization?" Or "What impact has this organization had in your life?"


Thank Your Sponsors - A personal thank you and recognition goes a long way. Create sponsor message videos and tag them in it if you share on social.


Brand Your Content and Be Consistent - Your audience should know that your video content is all tied to a specific event and cause. In this time of working from home and sheltering-in-place, viewers are forgiving of technology imperfections. However, you can still elevate your content with branded graphics, audio and lighting advice for video shooters, and editing for concise messaging (short, regular content will keep your audience engaged.) Our client The Cincinnati Opera created "Apartment Arias" for their audience to help support their artists at home and also help promote their upcoming season. We are able to help by adding in graphics and consistency to the user-submitted videos.
Like many of you, the Spotted Yeti team has had to adjust the way we normally work — and adapting live events for your audience is one of the ways we are currently partnering with clients. For further advice on how to pivot your event to a virtual experience, please don't hesitate to reach out. And for a full detail on our capabilities during the COVID-19 crisis, please read this update.