It all began as an inside joke. One of our editors, Michael Clouse, shared in January 2020 that he wanted the team to work with puppets that year.
I walked into the office as a new hire in September, many months later. By this point, the Spotted Yeti team had been working remotely for several months and had ironed out many of the challenges of working separately.
On production, our COVID safety policy was firmly in place. We take temperatures upon entering the office. We are masked, six feet apart, and armed with hand sanitizer. As the months of 2020 marched on and COVID cases continued to ramp up, we remained working remotely at home, limiting in-person contact to only what was necessary (mainly production shoots).
Preproduction with clients now involves COVID discussions that range from "Could you please share your current COVID safety policy?" to debating "Should you or should you not be wearing a mask on camera?" Spotted Yeti made many pivots in 2020 and including COVID-discussions as part of our lexicon helps ensure the safety of our clients and our team.
As
f

all progressed, conversations started to bubble around the holiday video.

I was impressed with the prior year's work. My new team had a sense of humor and exhibited it in full force with the 2019 concept.

The team bounced ideas around daily. How could we continue our tradition of fun, holiday video work while adhering to our safety protocols? How could we be together, without being together?
Molly was the one who brought the concept to light. Following a production shoot with Chris and myself, we conferenced remotely with Jenna and Clouse from the office.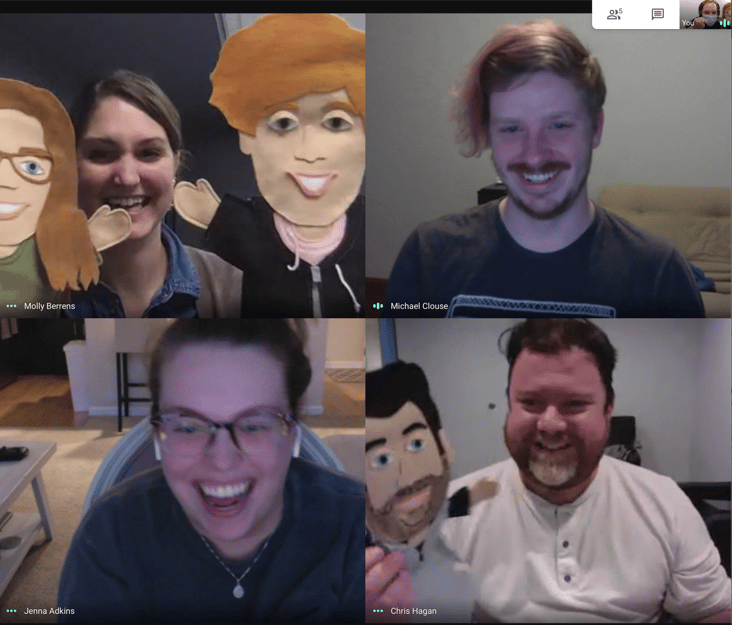 The Spotted Yeti team receives their puppet presents.

"Puppets!" exclaimed Molly, pulling two puppets out of bags that resembled both our remote editors.
Chris was hooting from his desk and I had my own new best friend in my lap – laughing wildly and imagining the silliness that was certain to ensue. We were all thrilled - Clouse's dream was coming true!
Molly posed the challenge: we needed a strong, story concept to use the puppets as a representation of why we can't be physically together this year. A few ideas were tossed out and ultimately we settled on a parody music video.
A parody music video is no small undertaking. Once "My Favorite Things," was selected as our holiday-neutral baseline, we set out ensuring our efforts had real meaning for us. As a small business in Covington, we experienced and witnessed firsthand the ramifications of closures and shutdowns in Northern Kentucky.
Our team focused on supporting the businesses around us. If holiday cheer was to be doled out, we wanted to bring attention to many of our friends and relations in the community. Lyrics poured forth:


Let's support local and help out our friends.
Making the best of things as this year ends,
Board games from Stoney's
And a kitten café.
Trying new bourbon and a cool place to stay.

We wrote. We re-wrote. All five of us discussed lyrics, re-worked the lyrics and wrote more. Slack messages were sent back and forth – Should we include this? How can we include that? We wanted to squeeze as many businesses in as possible while maintaining the rhyming and syllabic structure.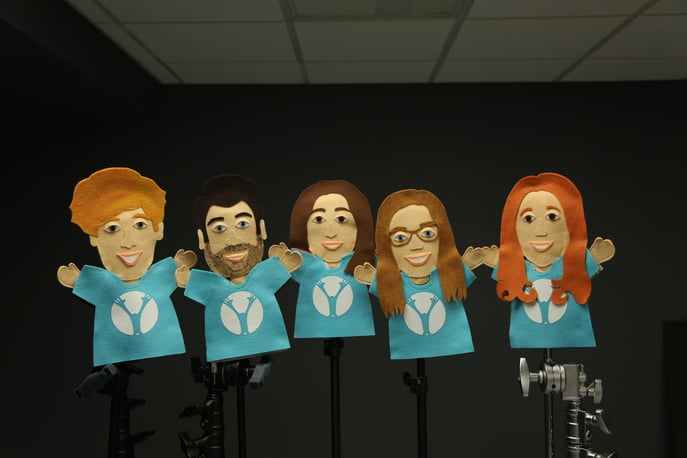 The full Spotted Yeti team - as puppets - in our office studio. Puppets are immune to COVID-19.
Scheduling and logistics came next. As much as we all wanted to work on "the puppet shoot," Clouse, Chris, and Molly moved forward with production as our video crew. They bundled up and headed to the streets of Covington.
I received a text of my puppet shopping. Jenna's puppet read in a bookshop and Chris' puppet was sniffed by a cat. We all started commenting and sharing our experiences together. From far in my home-office, I felt grateful to see such camaraderie and playfulness within my team.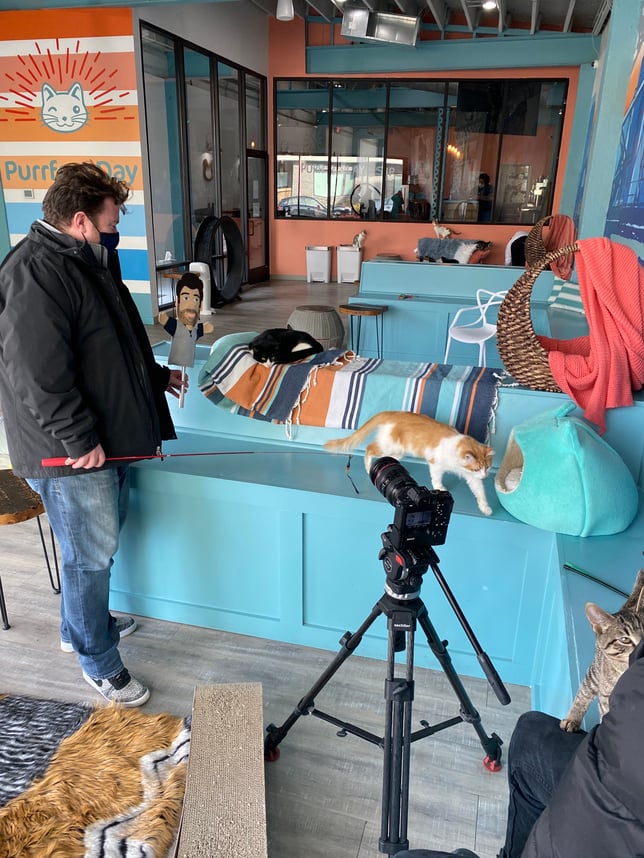 The Spotted Yeti team maintains distance and is masked on-production (among other safety measures).
The editing process was another whirlwind. Our posting deadline approached (as we do, in fact, plan an annual video content calendar), and we worked to schedule times for each of us to record ourselves singing in-studio at the Spotted Yeti Headquarters.
I remember stepping up to our computer and microphone. I listened to Clouse's track. I listened to Molly's. It's been a long time since I heard non-performer adults singing earnestly together. I took a deep breath and began.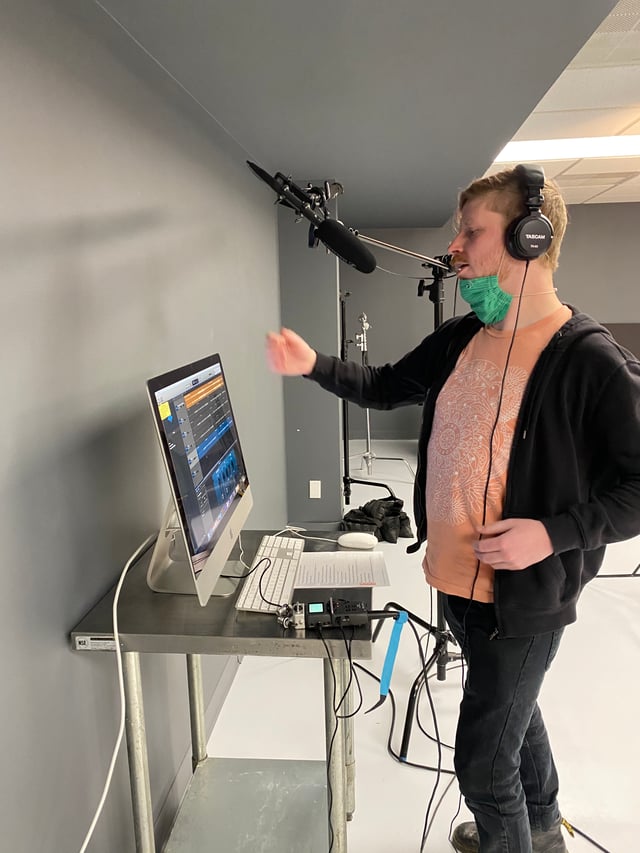 We recorded our singing one-by-one to maintain safety. Our editor, Clouse, took the lead by laying down the first track.
In a time when connection is not simple, Spotted Yeti created a prop, concept, and process that elicited joy. We made a parody music video with puppets. We prioritized our safety, we focused on our neighbors and we came together – separately – by allowing our innate talents and expertise to bring us closer.
We want you to stay safe and healthy when producing your videos. We are here to take the measures needed to ensure safety during preproduction, on set, and in post production. We look forward to bringing our joy, our creativity, and our thorough, evolving expertise to your story. If you're ready, contact us, and let's get started.