Working with Spotted Yeti has broadened my creative skills because our team brings different perspectives to each project we create together. Whether working alongside Molly, Chris, Liz, Bryan or Andy, I know each of our voices play a unique role in the stories we tell. And our Smart Video Solutions (not just telling the story, but making sure it is seen) is something I am especially proud of.
At Spotted Yeti we are woman-owned (go Molly!). We take pride in this because from Hollywood to our Cincinnati region, our industry is a male dominated field. In 2022, of the top 250 highest grossing films, women only made up 24% of the behind-the-scenes roles. With that kind of a chasm it can be easy to overlook the many women who are working to cement their place in filmmaking. Even my multi-media program in college had 80% men and 20% women students!
In honor of March being Women's History Month AND Oscar season, I think it's important to showcase three women that work behind-the-scenes and bring the female experience into the limelight.
Elizabeth Banks
Elizabeth Banks is an American Actress and filmmaker who has had continued success since her first major film Wet Hot American Summer in 2001. I have grown up watching Elizabeth in movies such as The Hunger Games trilogy, the Toby Maguire Spiderman trilogy, and the Pitch Perfect trilogy- a lot of trilogies! I like to think Elizabeth and I would get along because we both grew up in Irish Catholic families, met our husbands freshman year in college, understand the crippling weight of student loans, and have directed short films. Okay, maybe she has been more successful in directing than I was, considering her directorial debut set a record for the highest earning opening weekend with Pitch Perfect 2 bringing in $69 million! If you are interested in seeing more of her work, Elizabeth directed the new action-comedy movie Cocaine Bear that just opened up in theaters February 24th.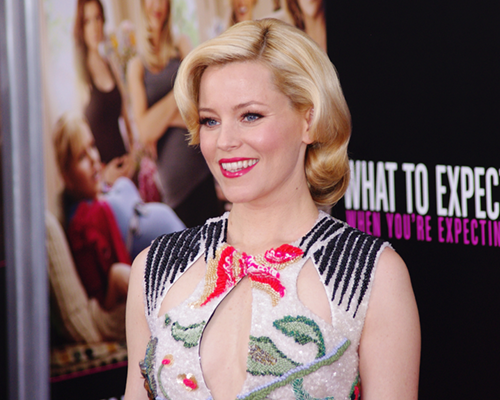 Elizabeth Banks, 2012 (David Shankbone, WikiMedia Commons)
Tina Fey
If you don't know who Tina Fey is in 2023, you're going to need a very good explanation. Something like "I have been living in an underground bunker for the last 20 years" is the only possible way you could avoid her influences on pop culture at this point. Which ironically, living in an underground bunker and being brought into the modern world is the exact premise of Tina's Netflix sitcom Unbreakable Kimmy Schimdt.
Tina is an accomplished comedian, actress, writer, producer and playwright- a quintuple-whammy! One of her most famous works is Mean Girls (2004) starring Lindsay Lohan. The movie was so successful, Tina adapted the script into a musical which premiered on Broadway in 2017. Now in 2023, the Mean Girls The Musical is getting adapted into a movie for Paramount Plus. Which can only presumably be made into a successful musical, called "Mean Girls the Musical the Movie the Musical".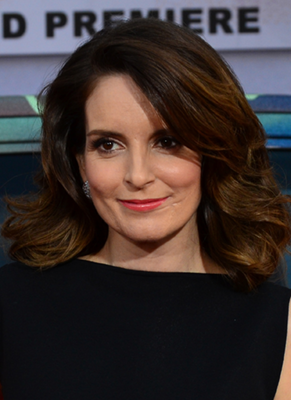 Tina Fey, 2014 (Mingle Media TV, WikiMedia Commons)
Mindy Kaling
Mindy is one of my favorite women in film and tv, because she consistently fights for diversity on the screen. Mindy began as a stand up comedian but the content she writes, directs and produces is binge worthy and meaningful. Mindy came into the spotlight when she worked on The Office tv series as an actor and writer. After The Office she became more of a house-hold name with her show The Mindy Project, which ran for six seasons which she created, produced and starred in. Mindy continues to work in on screen roles but somehow finds the time to also write, direct and produce!? She has launched three different hit series across Netflix, Hulu and HBO! The best thing about all of her work? The accurate portrayal of being from Indian descent in America. As a first generation American herself, Mindy has aided in more accurately representing Indian-Americans on screen, by creating roles for younger women (and men!) like her.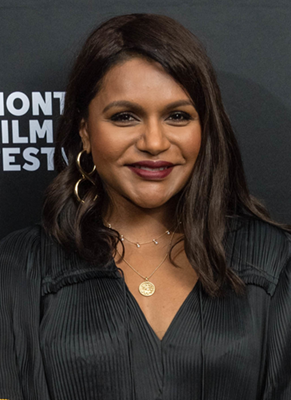 Mindy Kaling, 2019 (Montclair Films, WikiMedia Commons)
There you have it! Three of my favorite women in Hollywood. Even though these women may be well-known stars, you do not need to travel far to find amazing women in film: the Cincinnati and Northern Kentucky region have woman-led opportunities right here.
With their own unique visions, Cindependent Film Festival and Women in Film continue to develop and lead filmmakers in the region every day. Add your voice to the sounding board, and let's make beautiful stories together.
To learn more about Spotted Yeti's creative process and how we use our unique voices to help tell your story, contact us.