It's BLINKtober! For the past several months, our team of eight has been dreaming up and designing CINEMAGIC: a whimsical journey through entertainment worlds influenced by our childhood, classics, and present day favorites.
Lead by our Creative Director, Chris Hagan, the six Yetis, alongside our esteemed collaborators, Tony Agliata and Matthew Grote, hope you come see CINEMAGIC at BLINK, October 13-16, 2022! We'll be on location (outside First Financial Bank - 601 Madison Avenue, Covington, KY) Thursday, October 13th from 7:00pm-8:00pm as our projectors light up for the first time. Come say hi! If you can't meet us in person, please tag us on social media and hashtag your photos with #BLINKSpottedYeti. We'd love to hear your thoughts and we appreciate your support.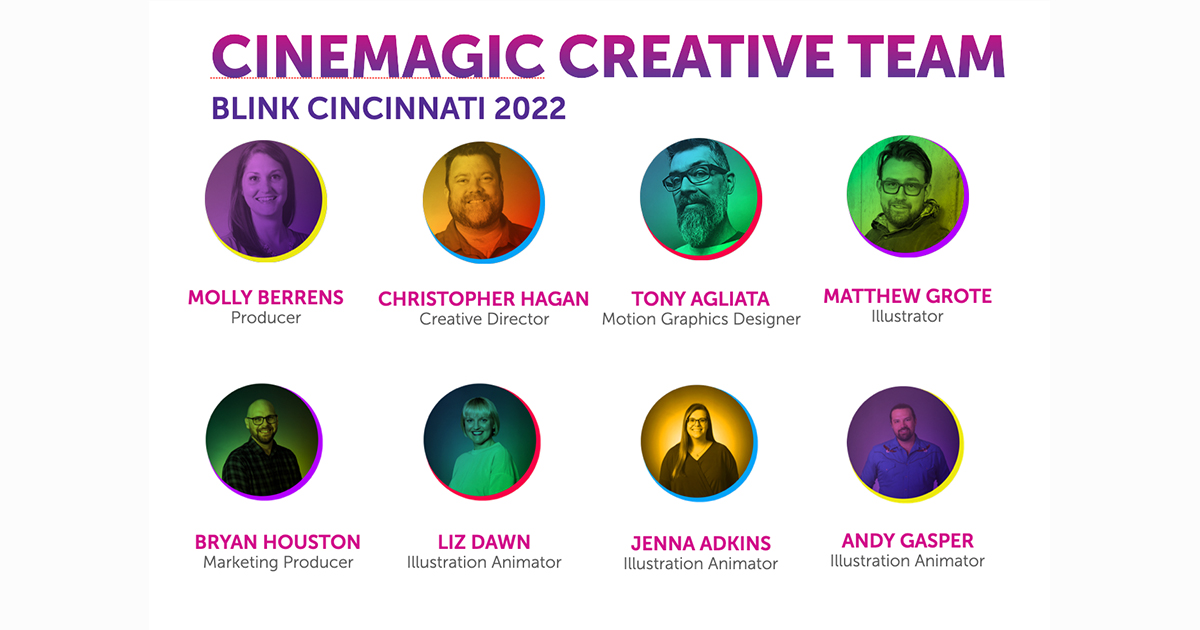 Our BLINK Guest Collaborators
Tony Agliata, Motion Graphics Designer
Tony Agliata is a seasoned Motion Designer and Art Director with nearly 30 years of experience. The bulk of that time has been spent doing work for both live and commercial broadcast along with large format screen graphics for live events.
Tony has participated in two Blink festivals: in 2017 as a guest artist with Iacono Productions (now LIVE Technologies) and in 2019 partnering with Spotted Yeti. Tony has an IMBD credit as a visual FX artist for the independent film Easy Does It (released 2019) and has earned 3 regional EMMY awards. This year he was the designer/animator for a piece that won Best in Show at the Baltimore ADDY Awards.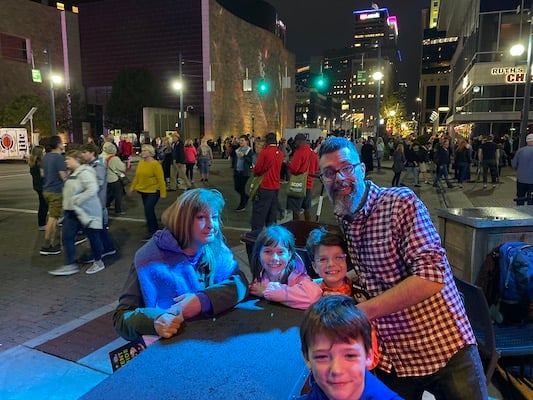 Tony Agliata and his family at BLINK 2019.
Matthew Grote, Illustrator
Matthew Grote (who also goes by the moniker OGRE) began his career working as a toy designer at Fisher Price in East Aurora, NY., where he started creating murals as a side practice. In 2014, Matthew moved home to Cincinnati and continued implementing murals and installations with ArtWorks and other organizations while maintaining a design career in 3D printing. He also worked as an environmental graphic designer at Kolar Design, producing art and murals for Cincinnati Children's Hospital, Fifth Third Bank, and Enerfab, Inc.
Currently as an independent artist, Matthew has created murals for BLINK, the Greater Cincinnati Foundation, Oishei Children's Hospital, The Prysmian Group, and 4EG, among others.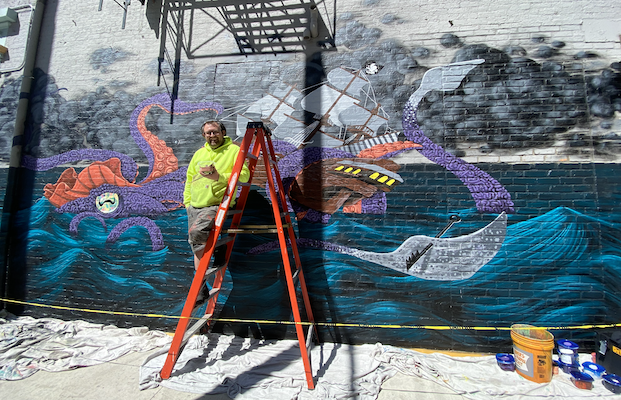 Matthew Grote at on one of his latest mural installations outside Pilar on Court St. in Cincinnati.