It's the most luminous time of the year! We're excited to announce that Spotted Yeti is returning to BLINK Cincinnati as a contributing artist. BLINK is an immersive light event that transforms over 30 blocks of Cincinnati and Covington into an awe-inspiring art experience.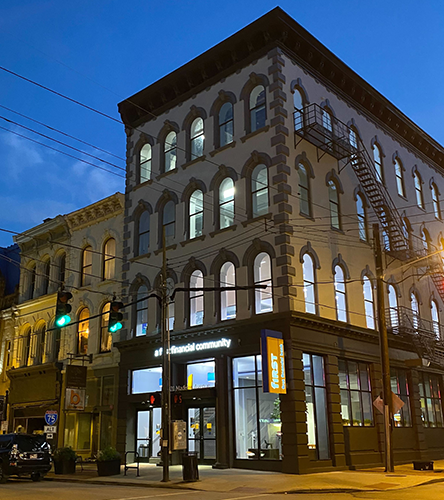 First Financial Building in Covington
BLINK is a 4-day event, running October 13-16, 2022. You can find our projection at the First Financial Building at 601 Madison Ave. in Covington. BLINK returns to Cincinnati for the first time since 2019, where over 1.25 million people celebrated its glow and wonder.
In 2019, our installation HUEmanity was displayed on the National Underground Railroad Freedom Center. The piece was a collaboration with artists Tony Agliata and Matthew Grote and this year we're excited to get the same band of creatives back together. More to come on the concept, but as a teaser...we're taking viewers on a journey through diverse worlds inspired by our imagination and a quest to find just the right thing to watch on tv.
Join us in October and find out what the creative wizards at Spotted Yeti Media are conjuring.