BLINK® will be more than just a flurry of color around the City, it's a testament to collaboration and hard work done all across the community. It also signifies a time to shine for artists across the Cincinnati area.
Here at Spotted Yeti we're honored to have a part in that collaboration, and production for our projection that will display on the National Underground Railroad Freedom Center between October 10-13th, is now complete.
HUEMANITY: DIVERSITY IN DESIGN
Our project, HUEmanity is a coming-together of many elements. Artistically, the collaborative nature of the project allows us as artists to combine our styles and skills to create a final light projection that will be both stunning and technically impressive. The final product will be mixed-media design incorporating both animated designs and live-action footage to bring a surrealist reimagining of our city to life on a large-scale.
HUEmanity, obviously a play on words for the colorful nature of BLINK®, is also a nod to what we're proud of and what we'd like to see more of in the Cincinnati regiona beautiful, vibrant community that welcomes people of all races, beliefs, and backgrounds.
ARTISTS AND COLLABORATION
We're honored to have Tony Agliata on our team for HUEmanity this year. Tony is a motion graphics designer with 25 years of experience, who has navigated the profession through changes from analog to digital forms. Now that animation technology has created endless opportunities he works as a motion graphics expert, even if it means he has to teach himself new skills to get over creative humps. As Creative Director for this project, he's tasked with managing the artist collaboration between Director of Photography Chris Hagan and illustrator Matthew Grote, as well as stitching the HUEmanity narrative together.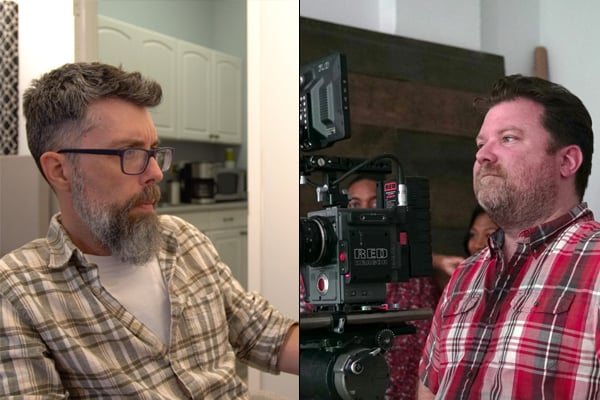 Tony Agliata (left) works on animation and design while Chris Hagan (right) leads the production team.
Matthew Grote, who also goes by the moniker OGRE, brings that street art vibe to the project.
As a seasoned muralist, the large-scale nature of this projection is familiar to him, but instead of throwing paint on a building's wall, it's light.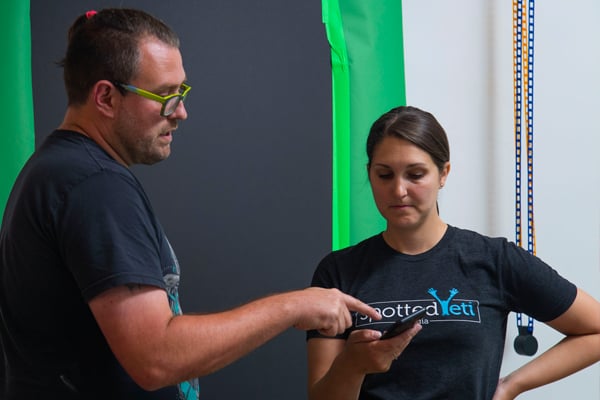 Matt Grote (left) and Molly Berrens (right) collaborating during our green screen graffiti shoot.
After a few meetings with the whole creative team to decide on a theme, each collaborator went their separate ways to create individual elements-- like background textures and silhouettes of people created on green screen. After some elements were stockpiled, Tony built out a narrative by creating "style frames," or a graphic storyboard that each artist would follow to make one final video. From there, it's really just one foot in front of the other as each person on the team chips away at the project, and stays in constant communication about the progress.
CITY-WIDE COLLABORATION
BLINK® is a collaborative effort on a larger scale, too. The festival's producing partners include local organizations like The Cincinnati Regional Chamber, The Haille/U.S. Bank Foundation, AGAR, Artworks, and Brave Berlin. This year's festival will be even larger than in 2017, spanning 30 blocks and across the river into Covington for the first time, and will bring in artists from around the world.
Being involved in such a large event can be daunting to even the most seasoned artists, so the collaborative atmosphere helps everyone get through it.
As Tony put it: "You hit walls with your knowledge of the software or time constraints that you have to navigate to push forward." And it's true. BLINK® is definitely posing new challenges for us to work through, but we're banding together to bring you something truly remarkable.
We all had a deadline of September 30th to deliver the final video file to Brave Berlin. Tony said it best when he said "No matter what, there's always more you want to do." So, we better get back to it.
Come experience HUEmanity at BLINK® at the corner of Walnut St. and E Freedom Way and use the hashtags #blinkcincinnati and #blinkspottedyeti to add your unique voice to the conversation. Because just as our project will convey, all are welcome.