If you've been in and around downtown Cincinnati and Covington this week, you can't help but notice that the BLINK buzz is in full swing. Exhibits are going up, murals are being completed, and the lights are coming on. Whichever days you choose to spend Downtown and in Covington exploring BLINK, there is plenty to do. Especially near our installation, HUEmanity, at The Banks.
The event kicks off on Thursday evening at 7:30 with a BLINK parade that starts on 8th Street and heads straight down Vine Street to The Banks. When the sun sets, you can begin feasting your eyes on larger than life art, starting with our installation, HUEmanity: a journey through light and color that brings us together in the place we call home.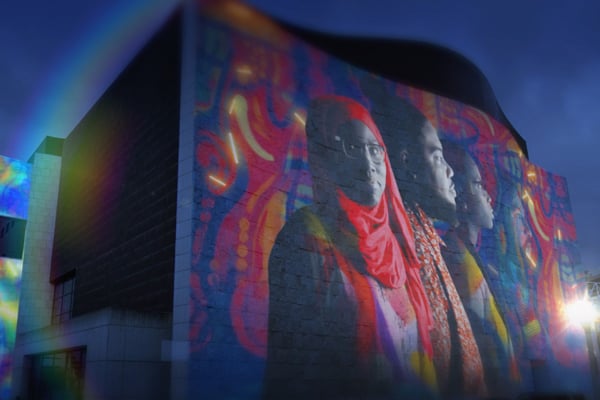 Join us at The National Underground Railroad Freedom Center for HUEmanity.
EXPERIENCE BLINK
Although the festival is free, there are several events and experiences running all weekend that are worth checking out if you're willing to spend some extra cash. ArtsWave is hosting 6 different walking tours. We suggest joining the "Love The Cov Art Crawl" that runs every half hour. This narrated tour will walk you down Madison Ave past full-scale projection mappings, interactive exhibits, and some of Covington's favorite murals. Tickets are $35, but children 12 and under are free and there are discounts available for students and seniors.
Saturday evening, walk across the Roebling Bridge and see it lit up into a monumental piece of art using light, color and sound to enhance the current architectural lighting and bringing the bridge to life. Explore the art Covington has to offer in the city's BLINK debut and enjoy a free concert from the band Grouplove, that will greet you once you have crossed the bridge.
On Sunday, visit the Banks for a behind-the scenes look at BLINK: "THINK TANK- Meet the Artists behind BLINK". These are 20 minutes discussions with the various artists on their philosophies and inspiration of work followed by a 10 minute Q&A. Molly, Spotted Yeti Media's Founder and President will be speaking between 3:30-4pm.
If you're visiting The Banks this weekend and you run into a Spotted Yeti team member, be sure to say hello. We'd be happy to tell you about our installation and the creative process behind our final piece. While you're there, enjoy a ride on the Sky Star observation wheel, and enjoy the festival's largest hospitality area with food, drinks and live music all weekend.
Finish the festival on an uplifting and welcoming note with a Tea Dance at the Freedom Center - a celebration for the LGBTQ community and allies on Sunday from 4-8pm. After the ceremony, HUEmanity will light the skies one final time before the festival's end. But even as the sun comes up on Monday, and HUEmanity's colors fade, we hope you won't forget the message of our project— that all are welcome in Cincinnati, and we're glad to have you here.