Is your company new to video? Or, have you been producing video, but have not seen the results that you hoped to achieve? It's no argument that video is now a must-have in both your internal and public communication material. But more importantly than having video content, you need a plan so that it is effective.
A roadmap to both outline your video objectives and set metrics to measure your success will help keep you on track to achieve results. Here are five reasons why you should have a video strategy within your overall marketing plan.
1. You want to stay relevant.
Quite simply, video is leading the way as the most effective way to engage with your audience. Producing quality and fresh content will convey to your audience that you are staying relevant and meeting their current needs.
Also, you have to be where your audience is watching content. There are many platforms currently to promote and share your video and each has its own value. You should consider multiple distribution methods when releasing videos. This is a topic for another time, but for now we'll stay high-level and say that YouTube is the second largest online search engine (following it's parent company, Google). Furthermore, recent studies rank Facebook and YouTube as the number one and two social media sites respectively. Therefore, if you do not have content here, you could be missing a huge opportunity to reach your ideal customer.
2. Your audience needs to be reminded of you frequently and at the right time and place.
One video can't do it all. Narrowing your focus for a series of videos can prove more effective than one catch-all, lengthy video. Particularly in the space of social media, audiences have limited attention spans so shorter messages can be better at catching and keeping someone's attention. This also allows you to target a more defined audience with each topic and share this content at relevant times.
Additionally, if you have a singular marketing message, it should be presented in different ways. Traditionally, your audience needs to see a business name or marketing message an average of five times before they act.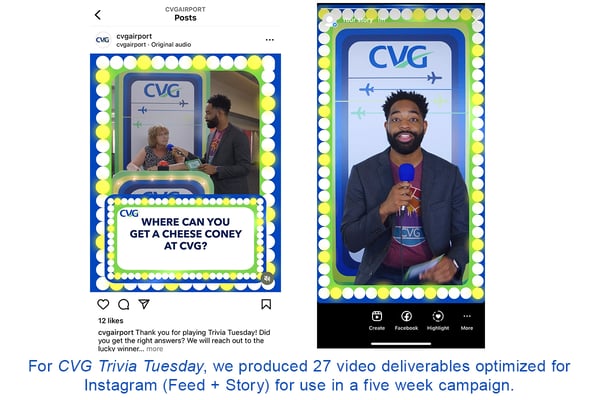 3. Your regular content needs be valuable.
Strategy gives your video purpose. It's not just about having video, but producing video that is valuable. You want your ideal customer to engage with you regularly and that means giving them new quality opportunities to learn more about your services, products, or brand. We're not saying to avoid sharing those DIY or iPhone produced videos, but do make sure that everything you release under the name of your brand offers value to the customer. With that said, we do recommend that any videos on your website or videos designated as a "featured" on your social media pages are professionally produced….despite the saying, people do "judge a book by its cover."
4. You need to know what to budget.
Regular video content has the potential to be costly. Identify your priorities and timeline so you know where best to spend your budget. Think about how video can support your overall marketing objectives for the year and produce content inline with those goals. There might be opportunities that arise such as events that would be great to have a video coverage of, but if they don't support your marketing objective (and you don't have excess budget), stick to your priorities.
5. A video strategy allows you always to be one step ahead.
No one likes to play catch up, especially when it's with your competitors. Having a plan in place keeps you focused and always aware of your next step. Additionally, it shows your manager that you have a well thought out strategy to effectively use those marketing dollars. Instead of reacting, make a video strategy today so that you can map out ideas and plan for success.
To see how one of our clients has successfully planned out a video strategy, check out this example from publisher David C Cook. David C Cook is a leading provider of Sunday school curriculum called Bible-in-Life. To stay relevant in today's media-consuming environment, they planned out a multi-year video approach to support their curriculum.
Do you need help creating a video strategy? That's where Spotted Yeti Media can help. Contact us today to setup a meeting. We'll help you discover where and how video fits most appropriately within your current marketing plan.