It's very rare that we have a blank canvas to create art. Where all content is dreamed up by us. Where the client is essentially ourselves (who at times, can be difficult to impress). As a video marketing agency, our projects always start with a review of client objectives, story content, target audience, delivery platform considerations and more. But the beauty of BLINK Cincinnati is that the art defined is by our own creativity and imagination. And thus the bar is high, as we strive to push ourselves technically and artistically.
To kick off our creative process for 2022, we did define a few parameters. First and foremost, we wanted to repeat our
collaboration from 2019
with artists Tony Agliata and Matthew Grote to produce a mixed-medium installation including cinematography + motion graphics + illustrations. Their talents and perspectives elevate our art and push us in new directions. We were thrilled they both wanted to participate again. Secondly, we were committed to taking the viewer on a journey and include a story element to our projection mapping (while taking into the considerations that the projection is a looping video without a distinct start or finish and does not include audio). And finally, we wanted to be inspired by the building itself.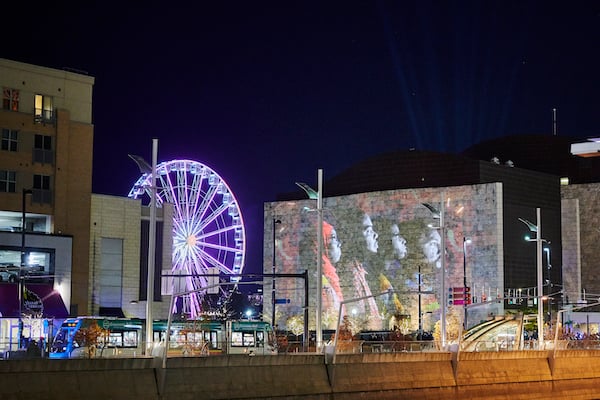 Scene from HUEmanity in 2019.
In 2019, our installation HUEmanity was displayed on the National Underground Railroad Freedom Center. The surface was a solid massive wall (no windows) with great visibility. The limited architectural elements really let the content and story shine and we drew inspiration from what the Freedom Center represents. This year the team held off on fully defining our creative story as we anxiously awaited our building assignment. When the news came that we were awarded the First Financial building in Covington, we were delighted and also motivated by a completely different canvas with a surface area of mostly windows (15 to be exact) and many historic architectural elements. Take a look at our building - what do you see? Our imaginative minds saw cell phone apps, a wizard in search of something, and portals to "worlds." We also had a desire to be nostalgic, whimsical, and relatable. And thus our concept developed and evolved to CINEMAGIC.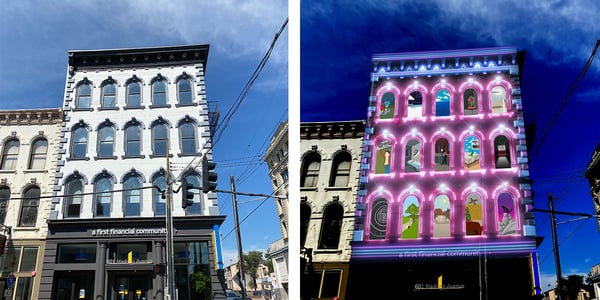 First Financial Building at 601 Madison in Covington.
CINEMAGIC
With endless entertainment at your fingertips, it's often a quest to find just the right thing to watch. CINEMAGIC takes you on a journey through worlds influenced by film and television masterpieces. With a touch of whimsy and magic, watch as Ms. W. Panes navigates her streaming options searching for the perfect escape to a world of make believe.
Drawing inspiration from the building's geometric exterior, CINEMAGIC transforms physical architecture through touchscreen navigation, opening portals to imagination. A mixed-medium collaboration combining cinematography, illustrations, and motion graphics, CINEMAGIC includes delightful pop culture references for all generations
We hope to see you at BLINK, October 13-16, 2022! Please tag us on social media and hashtag your photos with #BLINKSpottedYeti. We'd love to hear your thoughts (and also how many TV and movie references you can name)! A huge thank you to Spotted Yeti's Creative Director, Christopher Hagan, Tony Agliata, and Matthew Grote for defining our creative vision. Thanks also to our installation location, First Financial Bank, and the City of Covington for supporting community vibrancy and local businesses.
First Financial Bank (601 Madison Avenue, Covington, KY 41011)
The newly painted and rehabbed First Financial Bank in Covington is on the corner of 6th and Madison (near our favorite local hotspots Hotel Covington and Kungfood Amerasia) and recently opened in February 2022. The center is the official Northern Kentucky headquarters and they have already committed to the local community by awarding nonprofit grants and designing a unique space for gatherings and meetings Their second floor community space is free to the public for use.