You are putting a ton of work into your business already, and using a bit of strategy can help boost your video posts so you're getting some kickback on your efforts. Make the mosts of your social posts with these five easy tips that are sure to drive up engagement.
1. Capture casual scrollers. We all scroll our social media feeds making quick, subconscious decisions if something is worth stopping for. Optimize your content to make sure your post is eye-catching. Typically, video posts drive the most engagement, so it's worth taking the time to present your content in video-form on social platforms. If you don't have editing capabilities, try something simple like converting your still image posts into videos to get the best results.
2. Don't be found guilty of engagement-baiting. While it's an age-old idea that you should seek engagement from your social media audience, Facebook's best practices have evolved to help include more authentic engagement. According to their 2019 best practices, Facebook frowns against "engagement-baiting," or telling the audience exactly how they should be engaging with a post. When you go to promote your video on social, instead of saying, "Like this post," try something like "What do you think? We'd love to hear how these methods would help you in your own business."
3. Don't be shushed. According to Biteable, 85% of videos on social are watched without sound. Make sure you're optimizing your video posts with captions, titles, or graphics that makes sense without a voiceover track or music.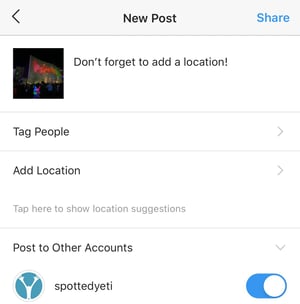 4. Show the world where you are. According to HubSpot, geotagging your post on Instagram drives engagement up 79%. Users are likely using their location to check out what's happening around them, so why not join in and scoop up some extra followers when you post your video to Instagram? This is a very easy way to see immediate results on your Instagram engagement.
5. Get ahead of LinkedIn's evolution with native video. Right now if you're sharing any kind of video on LinkedIn, good for you! It's sure to add to your online presence. As time goes on, though, you can expect that LinkedIn's algorithm will start favoring video posts where video is organically uploaded, not links to videos that are hosted elsewhere.
Bonus tip: IGTV— The vertical video platform didn't see immediate engagement from personal or business users when it first debuted in 2018, likely because it required a separate app. In the spring 2019 Instagram announced that it would preview the first minute of IGTV content as a post in your regular Instagram feed before playing the rest of your video in the IGTV app. Therefore, the process is now more seamless and you can upload longer content to Insta.
For inspiration for your IGTV game plan, check out these eight companies that are totally ahead of the game.
At Spotted Yeti Media, we believe part of the video journey is the strategy that allows your videos to be seen. No matter where your company is at in terms of using video in your digital marketing— from not using video at all, to hoping to step up your game— we can help.