Facebook now has two billion monthly active users. That's a quarter of the world's eyeballs captured on a single platform on a regular basis. And those eyeballs are looking for you, though they may not know it yet. What they really want is meaningful content and connections.
The cat's out of the bag. Posting compelling video on Facebook is the secret to giving 25% of all Earthlings the information, entertainment, and engagement that they're longing for. So if you're going to be posting video on Facebook, and you should be, here are a few things to think about.
1. Facebook changes a lot.
If you're in the marketing business, this is probably something that gives you fits. Facebook is pretty regularly changing the way that it ranks content. Well, I'm sorry to tell you that this probably isn't going away. Facebook's willingness to adapt is one of the things that has helped them to stay relevant for so long. And this definitely applies to the way video ranks in Facebook's newsfeed.
Since change is constant with Facebook, we'll do our best to provide regular updates and insights right here as things evolve. You can also go straight to the source if you want all the nerdy details by following Facebook's Site Governance Page.
2. Know your audience.
Somewhere buried in those two billion monthly active users is your target audience. If you've spent a lot of time getting to know them, then good for you. That means you care about reaching the right audience, not necessarily the biggest. As savvy content creators, we've learned over the years that vanity metrics, like number of followers, are just that. Fun fact: Mr. Bean has more Facebook followers than Taylor Swift. So as you plan your strategy for creating and sharing video, don't forget that you're still targeting the same customer that you target in your other marketing activities.
As with any video that you create, start by empathizing with your audience. I encourage you to take the time to learn how your target audience behaves on Facebook. Use their demographic information to your advantage so you can be sure that you're creating the content that is important to them in their decision making process. Above all else, provide value to those that matter most to you.
3. Play the game.
Facebook gives businesses lots of useful data on how your posts are performing. In addition, there is lots of research that reports on the way people interact with video on Facebook. You'd be wise to use this data to help shape your Facebook video strategy. For example:
Upload directly to Facebook: If you've invested in video to tell your story, you're probably also using platforms other than Facebook to share your content, right? If you're posting a link to a video on YouTube or Vimeo into your Facebook feed, your followers will be greeted by a big ugly link to click on. That's not ideal. By uploading videos directly to Facebook, your video will play automatically in your followers' news feeds, increasing the likelihood that you'll reach them with your message. And now that Instagram is part of the Facebook family, you can achieve the same user experience by sharing your Instagram videos to Facebook when you post. If that weren't enough, Facebook's ranking algorithm will also give you bonus points for higher organic reach. Removing the barriers to your content will make it more likely that you'll reach your target audience.
Silence is golden: According to multiple publishers, up to 85% of video views on Facebook happen with the sound off. If you're going to be sharing video on Facebook, design your video to have meaning without sound. Logos, product shots, and captions all help. Captioned video ads can increase view time by 12%.
Plan for success: Building anticipation can be an effective tactic to reaching your target audience. Whether you're creating the content yourself or working with a professional, you can get the most out of your video on Facebook by creating a content release strategy that leads up to the big event.
Start several days before posting your main video by posting a "behind the scenes" picture or two of your video production, letting your audience know what you're up to and when and how they can watch your finished video. If you'll be doing some editing, consider creating a really short teaser cut to share as you get closer to your release date. If you have the marketing budget, Facebook offers some handy tools that allow you to highly target and promote your video release. And even after your initial launch date, it's worth it to re-share effective content that you're proud of at regular intervals.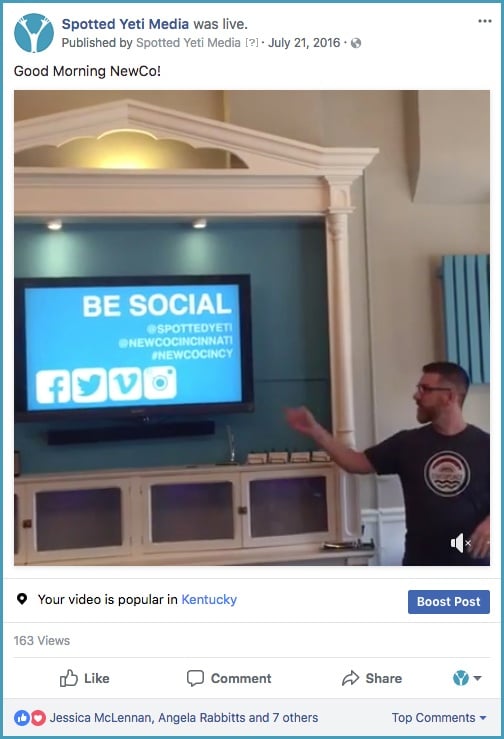 4. Go live!
Of all the ways to engage your target audience on Facebook, data shows that video is the best by far. And even better than posting video, is Facebook Live because it adds many more engagement opportunities. I encourage you to experiment with Facebook Live to see if it's an effective way to connect with your target audience. When you go live, make sure you:
Announce: Make sure you let your followers know that you'll be going live with a written post. Use that opportunity to let them know what to expect and to get excited about interacting with you in a new way.
Engage: When you're live, you'll be able to see exactly who is joining your session, so don't miss an opportunity to engage directly with your followers. Thank them by name for joining and ask them for questions or comments. This is a golden opportunity to directly ask your potential customers what they care about and to give them a meaningful response. These are the people who will remember you when it's time to make a purchasing decision.
Set a routine: If you find, over time, that Facebook Live is converting viewers into leads, then open the floodgates. Setting a regular schedule for Facebook Live sessions will allow your customers to know exactly when and where to get more of that valuable content that they need to support their business decisions.
It's not a bad idea to start simple…decide on a topic, point your camera, and go. If you're getting good results and you decide you want to improve your Facebook Live game, there are some third party platforms that you can try that give you some cool extra features, like screencasting, multiple cameras, or broadcasting to multiple platforms at once. StreamSpot, WireCast, and BeLive are just a few options for elevating your Facebook Live game. They come at a cost though, so consider your return on investment.
5. Test and Learn.
Like any new marketing initiative, don't let all the possibilities scare you away from starting. Remember, keep your audience in mind. Then plan something. Try something. Learn something. Fix something. Repeat.
Do you need help creating a video strategy? That's where Spotted Yeti Media can help. Contact us today to setup a meeting. We'll help you discover where and how video fits most appropriately within your current marketing plan.