If you are a marketing or communications professional for a company, you already know the value of providing regular content for your customers. It is necessary to keep them engaged and educated and keep you at the forefront of their mind. You also likely know that video is consistently performing the best when it comes to SEO and social media engagement. However, producing regular video content can be time-consuming and costly.It's rare that organizations have the capabilities to execute their business processes and an air-tight marketing and production plan, and it's understandable. Startup costs for software and standard equipment can be expensive, specialty equipment to produce creative or trendy content may be hard to get, and your team size can limit production and creative capabilities.
That's exactly why video agencies exist: To be ready for those hurdles and form a video marketing plan for organizations of different sizes and industries.
So How Does Process Work?
It all starts with a strategy before you can dive into a plan for how to execute it. If you haven't included a video strategy in your overall marketing plan yet, then read this: "5 Reasons Why You Need a Video Strategy"
Ideally, all video content should point back to your main goals of your strategy. Getting that birds eye view of your entire strategy can help you prioritize your needs and align them with your budget and resources.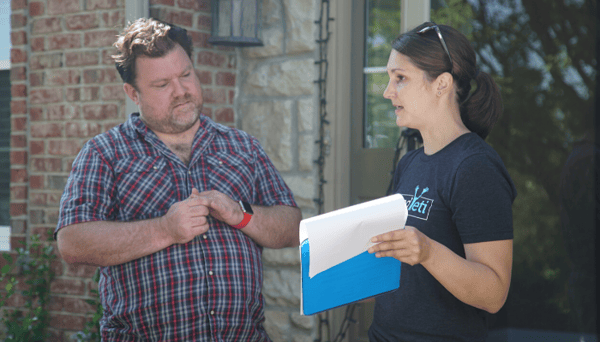 The Spotted Yeti team discusses production plans on set.
Consider the ROI
Hiring a production agency to manage this process may seem expensive, but it almost always results in a signification return on your investment. Many organizations simply like the benefit of being able to stay locked in on the day-to-day of their business responsibilities, which retains money and efficiency in itself.
There is some time required between each party, though. Working with a production company and outsourcing projects certainly requires building a relationship and earning trust, but as you welcome a production crew to work alongside your team you are bringing experts. Additional benefits of outsourcing include:
Larger teams and crew resources that can provide specialized production knowledge and skillsets for each project. (ex. Director of Photography, Audio Engineer, Motion Graphics Editor, etc.)
Agencies have experience producing video content for a variety of clients can provide a diverse perspective and fresh ideas.
There's no risk with hiring a full-time staff and investing money in gear.
It's the job of a video agency to keep current with trends and stay educated on what video marketing techniques are performing well.
Outsourcing doesn't mean you're giving up control, in fact it's the opposite. Video agencies have to have a strategic process to make content that works uniquely for organizations across industries. That specialized care is what it takes to rise above.
Get in Touch
Are you interested in partnering with a video agency? That's where Spotted Yeti Media can help. Contact us today to setup a meeting. We'll help you discover how video can help to "show the world you exist."