Video is more than a snapshot, more than a social media post, more than a written review. It's an intimate revelation of your company's strengths and successes, and an opportunity for you to connect with customers that may not know the fullness of your work. Video is the introduction you want to new customers – the beginning of a relationship between you and your audience that is lasting, repeatable, and engaging.
As video and online engagement becomes more and more necessary, customers of all ages and abilities have gravitated to a virtual sphere to research the endless possibilities of where to spend their dollar.
Being smart with authentic video strategy (especially during COVID, when you have a potentially captive audience,) allows you to reach your customers better – and more directly - pushing online boundaries further to reach audience more effectively. Whether you produce content in-house or outsource to a production company, now is the time to reach your audience and show them your real, true professional self.
1. Video highlights authenticity
Customers want to know who you are. They want to see your origins, hear of your journey, recognize your work as a mission or goal. Customers want to have a connection to you which ultimately garners a more positive experience doing business with you. Talking openly and directly about your work and your goals allows your customer the opportunity to empathize and rally around your business.
When you show your face, show the innate humanity of who you are and what you stand for, customers are given the opportunity to decide whether or not they believe you. Offering this choice through video puts you vulnerably in front of your customers, and garners immediate opinions and feedback about your work.
2. Video allows customers to "hear it" from strangers
Customer testimonials are powerful. Customers appreciate a third opinion, and want to see success stories of others who have worked with you and received a positive experience or exchange in return. Testimonials are a customer's source of credibility, allowing a purchaser to create a full, broad idea of who you are and how you do business.

You can – and should – share various perspectives in your videos. These perspectives, whether they are testimonials from employees or customers – allow others to reinforce the narrative you are laying out in your video and reinforce the story of who you are and how you like to do business.

Choosing the right talent for your videos is crucial, and Spotted Yeti is here to guide you through the process of finding/selecting the friends you place onscreen.
3. Video can showcase your day-to-day efforts.
If a picture is worth a thousand words, then moving pictures must be worth a fortune. Your video can illustrate your hard work and hustle by combining behind-the-scenes perspectives, day-to-day imagery, real life experiences, location shots – all the big and small moments that make your business tick – right alongside your story.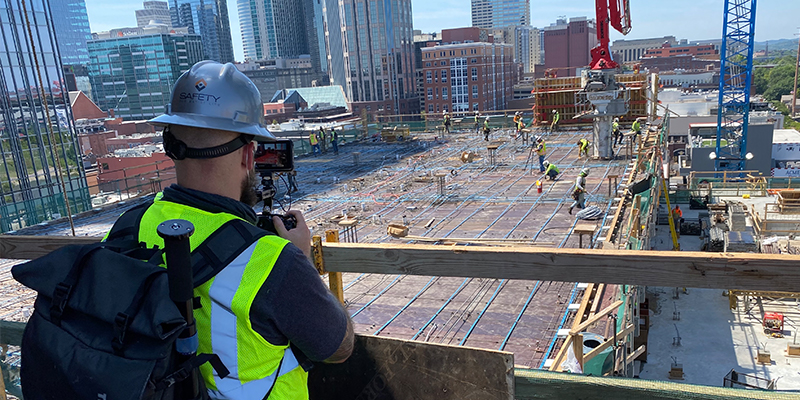 Spotted Yeti adventures to a job site to gather day-in-the-life footage for a client video.
The goal when providing b-roll (visuals to illustrate your narrative) is sharing quality and promise. If a customer has seen your process, can identify with your location, can see you or your team actively working forward to provide a great experience, then they will feel more trust when contacting you or walking into your front door.
4. Video provides a continuum for consistency
Consistency builds credibility. Providing repeat opportunity for a customer to listen to you and hear your goals affords repeat opportunities for you to win customers over.
Creating a video plan that allows your customers to engage in your mission, you, and your work on a recurring basis, allows your customers to see and learn who you are. This trust, this repeat confirmation of who your business is and what you are working to achieve, increases engagement, awareness, and the opportunity for customers to become super fans.
Using video to continue reaching your market – to continue showing the world you exist – is essential to the long-term health of your audience. Curating repeat customers and repeat engagement allows you to widen your foundation and expand your reach.
Customers are provided endless options when spending their dollars. Using video to build trust with your customers is a smart way to garner new and repeat business.