You want to produce a video. Maybe you have an idea and need help with execution. Maybe you need help developing that idea. Once you have a video, what do you do with it? Some will have you believe
"if you film it, they will come," but there's more to creating an effective video; that's why smart video is all about results. Let's take a look at how strategy, creative, and video production come together to get results.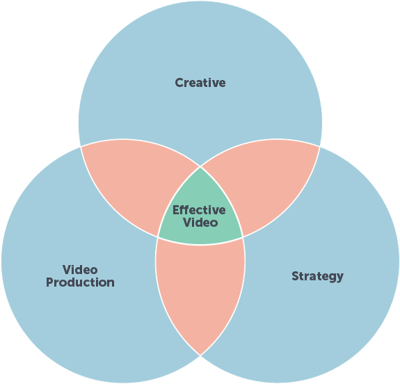 Strategy
New platforms, screen sizes, skip buttons, silent mode, scrolling, and attention spans are monkey wrenches in today's video content delivery. The days of a captive audience are behind us. The good news: the data to reach and engage your audience exists and is accessible. A consistent video content strategy and understanding when, where, and how to post your video is vital to a successful video campaign.
Creative
The creative process is a journey: leveraging your brand, identifying your audience, and aligning with your goals. It takes the best ideas from whiteboard to concept. The right video agency is an extension of your marketing team; they get you, your message, and can deliver a feeling that moves your target audience toward your goal.
Video Production
Video quality is a commodity. A smart phone can shoot beautiful videos, however, a story is more than the camera; it's the right script, blocking, angle, movement, color, location, light, and sound all perfectly executed by a team of professionals. Partnering with a video agency that understands how to scale up or down to best tell a story is crucial and can bring value to a consistent video content strategy.
At Spotted Yeti Media, we consider ourselves a Smart Video Agency because our team of creatives and business savvy producers know how to deliver an effective and creative message as part of a larger mixed channel video content strategy. Where ever you are at in your video marketing journey, let us help "show the world you exist".